Warm Weather is on the Horizon
Wednesday, March 06, 2019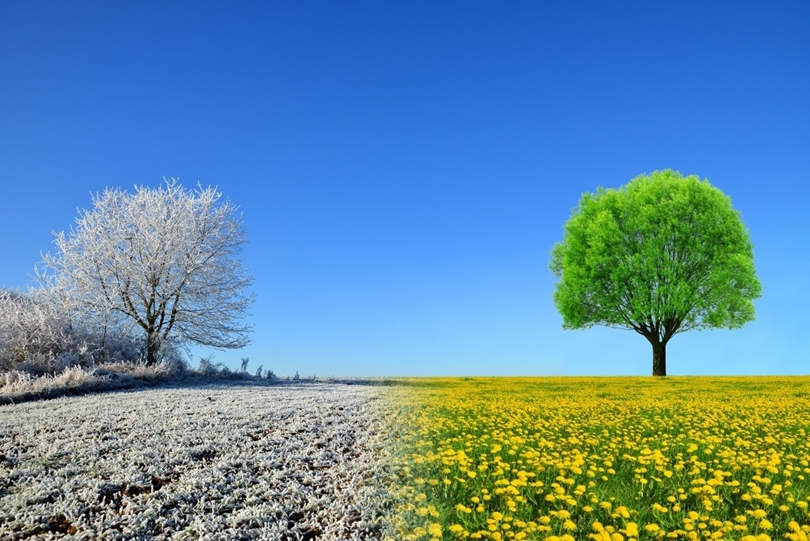 It is hard to believe that spring is almost here.  Cold weather and snow storms have taken a toll on us all and it doesn't feel like the end will ever come, but if you take a step back and look around you will start to see the signs.  Stay warm and dress for the cold but as you think about it, remember summer eventually does come.
Shopping
If you are starting to feel like winter will never end it might be time to go shopping at your favorite store, local mall, or online.  As soon as you enter the store or open up the webpage you will start to see signs of the approaching seasonal climate change.  Cold weather gear is being liquidated at retailers and many stores have already started to focus on the spring line.  When you start shopping you will start to see swim suits and shorts instead of coats and gloves.  Most retailers, both brick and mortar and ecommerce, are among the first organizations to welcome weather changes.  New seasons mean new styles and new needs for consumers which major companies hope will generate more sales.  Stores spend a lot of time preparing for these new seasons and ensure they are ready for whenever the warm weather shows up.  If you need a mental break from the hassles of winter, do some spring shopping.  It will help you take your mind off the cold and put you in the mood for the approaching spring.
Sports
Many people don't realize it but MLB Baseball has already started spring training.  Furthermore, the baseball season starts in just about one month and nothing is more iconic in America then baseball in the spring.  It is a sign that the harshness of winter is coming to an end and it is a call to start going outside.   NFL football has ended play and since then there have been no consistent outdoor sporting events to watch or attend.  NHL Hockey and NBA Basketball are great to watch but lack the outdoor feel of the other major American sports.  In addition, baseball allows us to once again attend a game outdoors.  When MLB parks open we can once again spend hours outside, with our friends and family, and be entertained by an event.  Some people will argue that you could go sledding, skiing, or snowboarding to get some outdoor fun in the absence of sporting events to go too.  However, these activities lack the same group intensity that you get out of supporting a major league team.  There is nothing like an outdoor professional sports venue.  Finally the last real sign of spring in American professional sports is the start of the NFL calendar year.  With it comes free agency, trade talks, and the draft.  The league year starts in mid-March.  This is just one more sign that the cold of the previous year is coming to an end. 
School Breaks
As soon as winter break ends for schools and universities almost every student starts to think about what to do during their spring break.  For college kids these trips usually involve going to some place warm and partying in the sun.  Now that we have entered the month of March we start to realize that spring break is right around the corner.  It is time to break out the swim suits and tank tops and start to prepare for this fun trip.  Spring break is a lot of fun but it is also important because it marks the start of spring for many people.  Most people who travel this time of year hope to leave the cold behind and to bring the warm weather back with them.  So if the cold is starting to take a toll on you spend some time planning the details of your spring break.  It will be a great distraction from the cold and the stresses of life.
Easter
If you look at retail stores and grocery supermarkets you will start seeing pastel colors and eggs appearing.  These items are showing up in preparation for the most Iconic American spring holiday, Easter.  Just when you think you finally have recovered from Christmas shopping it is time to start making an Easter basket for your friends and family.  It doesn't matter if you give candy, eggs, or clothing in these baskets part of the fun is buying them and the other joy comes from giving them to an appreciative recipient.  Easter is about spending time with family but it also symbolized the end to winter.  We do a lot of things during Easter that help us get mentally ready for spring and knowing the holiday is on the horizon means warm weather will quickly follow.  When you start to hide your eggs outside for an Easter egg hunt remember it is the first of many outdoor activities for the year.  It might be a bit cold but when hunting for the eggs but it is nice to be outside and remember that warm weather always follows Easter.
As another winter storm and cold weather sweep across the continental United States it is important to remember a few things.  March is here and spring is right around the corner.  Winter will end and the weather will get better.  Hunker down for a few more weeks and wait out the cold.  Better days are coming.