Spring Cleaning
Wednesday, March 13, 2019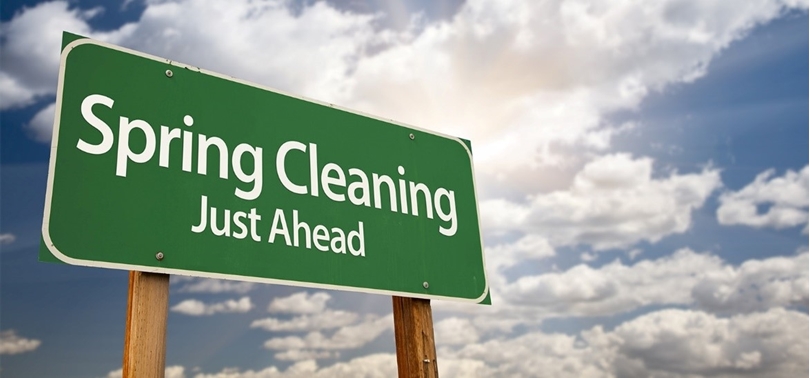 Daylight savings time does more than change the clocks, it changes our day to day routines.  We now see sun light later in the day and the days start to feel longer.  It is a nice feeling to leave work and still have the sun out.  This feeling also tells us it is time to start to pack away some of our winter items for next year and to clean up our houses and offices.  In other words, it is time for spring cleaning.
Making Small Changes
Spring cleaning enables us to organize living and work spaces to better fit our needs.  This can mean cleaning up houses or the office reception areas.  With the worst of winter behind us we hope to no longer need extra room for hanging heavy coats and we might need to start thinking about umbrella storage.  These small changes are helpful in maintaining a clean home and office.  Often times mud room and entry ways start to show the sign of wear from the winter and a good cleaning and reset makes a huge difference.  The grime of salt used to melt ice starts to fade and everything from your car to your house to your lawn start to look better.  In addition, reorganizing any space can help make the logistics of leaving and returning easier.  We will need less time to get ready and to put all of our stuff away.
Doing the Tough Work
Properly cleaning an area takes more time and effort than just putting a few unused coats away.  We often have to remove benches and hangers and clean the whole closet area.  It is important to do a good thorough cleaning every few months and a change of season is the ideal time to do so; however, the signs of winter often take some time and effort to get rid of.  Pieces of salt and ice melt can travel around and get missed by normal sweeping and vacuuming.  By emptying an entire area you gain the ability to get a better clean because stray pieces of dirt and debris have no place to hide.  Having an area empty also enables you to move more freely and allows you to get closer to certain areas for a better cleaning.  So don't be afraid to get on your hands and knees and do the dirty work.  If you use the area it is your responsibility to keep it clean.  If it is a shared area ask for a bit of help.  The reward of a clean area is worth the effort of moving items and getting dirty and doing a bit of cleaning yourself.  Everyone will benefit from your effort. 
Be Courteous
If you plan to clean or make a change to an area shared by someone it is important to talk to others about it.  Rarely will someone tell you not to clean something but you must respect other people's property.  In both the home and at the office, entry ways and mud rooms are shared.  If you are going to clean an area it is important to ask people if it is okay.  Some people might want to move their own stuff, so you won't have to making the job even easier for you. If you intend to and even have your boss's permission to clean an area it is still important to let them know and hang a notification sign.  This way you make sure people's privacy rights are respected and you can get the job done without an HR nightmare.   A well informed office is an office that fosters respect and has a vision for success.
Don't Forget Your Vehicle
Most of us spend more time in our cars, SUVs, and trucks then we do in entrance ways and we must not forget to give these vehicles a good cleaning too.  Many people's cars are messier in the winter because we do not want to stand outside in the cold to clean them.  Now that it is sunnier outside after work we feel better about being outside and cleaning our cars.  It is time to move the seats forward and back and dig out all the trash that has managed to fall through over time.  There are countless car wash places that offer elf service wash and vacuums.  Most of the time you can usually pay for the vacuum time with spare coins that have fallen under our seats over time.  A good cleaning is a great way to get a fresh start for the new season and makes your car feel new again.   So once you have a decent warm day spend some time outside and get the job done and give your ride the attention it deserves.
Don't Forget the Pet
 Cleaning up after a loved pet can be a real pain.  Dogs leave you left over presents in the yard and cats do the same thing but in a box.  Both of these areas must be maintained but also benefit from a good spring cleaning.  Now that it is warmer outside you can spend a few minutes inspecting the yard and cleaning up after a dog.  If you are a cat person it might be a good time to completely change the litter box and to clean up the general area.  The seasonal chores of any other pet from fish to rabbits also benefit from a good thorough spring cleaning.  It can never hurt to take the time to do a better than average job, your animal best friend will love you for it.
Spring is a great time but we must clean up our homes, offices, and lives in anticipation of it.  This allows us to maximize the benefits of our personal and professional spaces and to feel good about them.  Cleaning is always good but taking a little extra initiative to do a better job makes it a true spring cleaning.