The Changing Office
Wednesday, August 23, 2017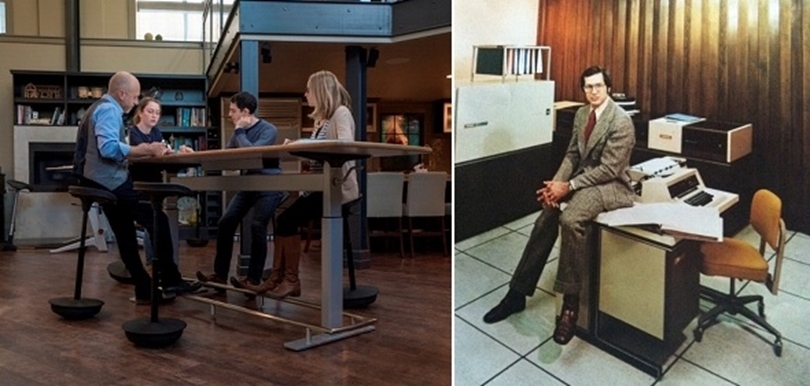 It's not necessarily business as usual in today's office.  It is clear that things are more casual from dress to how we speak to each other, to flexible hours. Although there is always a boss, people feel more comfortable with office relationships and a collaborative way of doing business. This is a big change from the way businesses were run years ago. 
Collaborative vs. Corporate Furniture
The days of cubical in every office is slowly coming to an end.  Many major companies still use cubical settings and that type of office will never be completely gone, but the approach to the modern office is trending to a collaborative way of doing business. The computer revolution, information technology, and customer expectations require bringing together multiple resources to ensure optimum solutions to problems are found. These initiatives have led to new procedures and, even, to new types of furniture needed in the modern office. Companies are looking at spaces that allow for more conference rooms, with more computer terminals, and they are purchasing workstations that allow for more interaction and desks that can be grouped together as necessary.
Bosses vs. Team Leaders
The modern office has advantages and shortcomings as well. Company managers can be open to suggestions but, also, need to be clear as to what expectations are. Establishing a positive company culture is crucial and understanding who is in charge is important as well.  However, people need to feel included.  Many companies still employee managers, but many companies also have smaller scale team leaders.   The role of a team leader is to work with the team and ensure everyone's opinion and input is valued while contributing their ideas as well.  This modern workplace structure allows for everyone to feel free to voice their opinion without direct management involvement.  This frees up the modern day manager to focus on other projects and empowers a team leader to ensure everyone's input is taken into account.
Dress up vs. Dress Down
One of the major changes in how business is done today is in how we dress for business.  Professional attire has changed from a formal look of a suit and tie to a casual polo shirt dress code.  Many businesses encourage casual dress for several reasons.  First dressing more casual puts employees at ease and allows them to be more comfortable while they work.  Second, the modern office encourages activity and health.  Being dressed more casually allows for employees to take mid days walks and be comfortable.  Finally, like all things it comes down to money.  Many companies realize the cost of formal dress attire and allowing staff members to dress down allows for the companies employees to save money to spend on more important things. 
Home Office vs. Corporate Office
To save budget money and foster greater productivity and independent thinking, many companies now allow work at home days. Employees can share workstations at the office reducing the size requirements for a corporate office or headquarters.  A growing number of businesses now provide  furniture and computer packages that employees can have at home to help them operate more efficiently. There are, however, increased metrics by which managers can evaluate the productivity and value of their employees' work.  This is not a free for all and the modern information age allows management and team leaders to stay in touch with staff members to ensure projects are getting done and goals are being met.
Yes, times are changing as they always do. Look forward to more adjustments to how business is conducted.  Who knows what the next trend will be but one thing remains constant, the job must be done.  
 If you found this article of interest, please share on Facebook, Twitter, or Linkedin.