Creating a Healthy Environment
Monday, August 28, 2017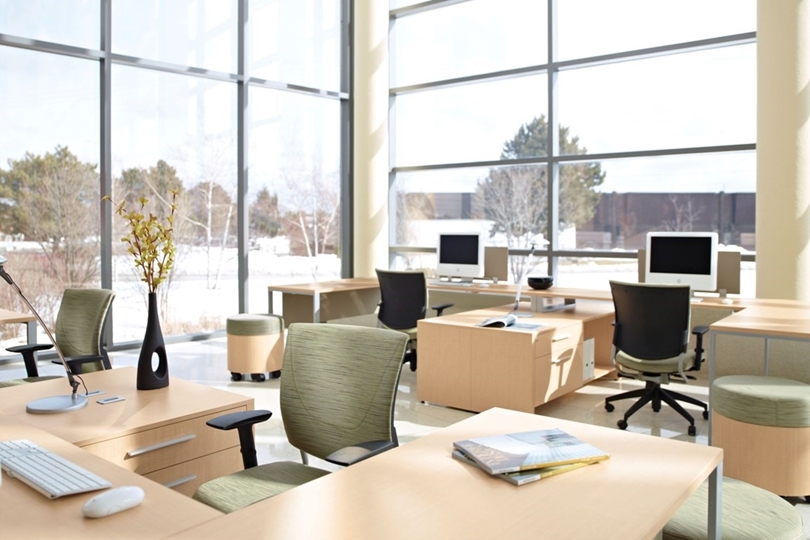 There are many healthy initiatives in today's modern office. There is a greater emphasis on these initiatives to help companies reach higher levels of success. With more competition to attract and maintain quality employees, offering competitive salaries is only part of the package presented to people. The office environment is vitally important.
Candidates for jobs are looking for flexible hours, pleasant offices, work out facilities, food service, and convenient locations. Some people are interested in job sharing opportunities and liberal vacation time.
What constitutes an ideal office setting? An optimum office environment offers an open office feel, not too crowded that promotes work flow. Today, successful companies provide for collaboration between and among employees, especially when they are working on projects. This calls for furniture settings where folks can talk to each other and ask questions. The popularity of cubicles with high walls has largely gone away.  Instead, furniture workstations are often grouped together. Offices also have small, multiple conference rooms for impromptu meetings.
Adequate office lighting has also become a consideration. Overhead lighting is less harsh with cool white bulbs and less concentrated fixtures.  Individual workstations have task lighting to provide illumination where required.
When selecting office desks, it is important to provide storage where needed and ample work surfaces, depending on the tasks being performed. With computer work taking over the modern office, it is important to have desks that allow people to work at the proper distance from their monitor.  In addition, the days of traditional desk height is also coming to an end.  Most modern offices now provide employees with either a height adjustable desk or an aftermarket component to allow workers to choose their desired work height.
No office is complete without a chair. In choosing office chairs, good back support should be considered along with many adjustments to allow for different shaped and sized people. Adjustable arms help cut down on carpal tunnel problems and other repetitive stress disorders.  What is important to remember is what the chair user will be doing.  Someone who works at a computer all day will have different needs than an employee who is constantly in meetings.  There is no perfect chair that fits the needs of everyone in the office, make sure you consider what the daily activities are and use that to find the necessary features.
Introducing wall colors makes people feel more comfortable, but you should avoid colors that are too bright and distracting.  There is a reason beige walls are common in office buildings.  There are other colors that can be used to emphasis a brand or company color but ensure that the walls are not overbearing.  In addition, it is also important to have pictures and posters on the walls to help set a calm environment.  These pictures or posters can also be used to spread messages to help improve morale and productivity.
People are concerned with good health today. Providing a workout area with basic exercise equipment is becoming more essential. Promoting good health makes for happier and more productive employees.   Healthier employee experience also has a direct bearing on health insurance costs, a key cost of doing business.  Offering benefits attracts and keeps a good workforce. Setting up gym memberships, arranging discounts with local stores etc., are things on which people put a high premium.
As we continue to move forward, one trend seems to become more emphasized in the modern work environment, ensuring employees are healthy and active throughout the day.  Whether it is through adding an exercise room to the office or providing a more modern desk or chair, it is vital to ensure the work environment keeps people motivated and productive.  What changes can you make to your office or current work environment to help improve morale and productivity? 
If you found these tips helpful please share on Facebook, Twitter, or LinkedIn.