Benefits of Bringing Your Pets to Work
Monday, August 14, 2017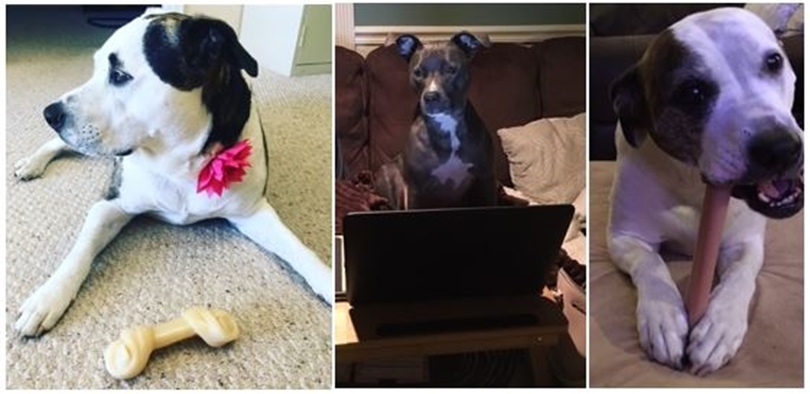 Pets have been around for as long as any of us can remember.  They bring a smile to people's faces and create a common bond among strangers.  Almost every pet owner is excited to see their pet, whether your furry friend is a dog, cat, or anything else, at the end of a long day.  However, why should one have to wait all day for their loyal pet companion to help improve their mood? 
Pets have been in and around office settings for many years.  As I child, most people remember a Doctor's office or Dentist's office with a fish tank.  It is also not uncommon for hospitals to use welcome dogs to greet their visitors and to help better the mood of their patients.  These pets are there for a reason…to make people feel comfortable, safe, and to brighten ones day.  Bringing your pet to work with you can reap similar benefits to you and help improve your productivity and the productivity of the entire office.
Comfort and Security
For most people having a pet around provides a great sense of comfort.  The pet not only provides a necessary retreat, at times, but also helps alleviate stress.  Everyone has bad days at work, whether it be a poor meeting with your boss or a less then successful interaction with a client or customer.  When things don't go according to plan, it is great to have a companion there to help make you feel better.  Being able to turn to a reliable friend is always helpful and a pet can be that for you.  Spending a few minutes petting a cat or taking a dog on a brief walk helps clear the mind and allows you to refocus.  This can have a changing effect on your mood and attitude for the remainder of the day and allows you to be more productive without the burdens of the past few hours affecting your efficiency and productivity.
Required Breaks
It is becoming more common for people to skip their lunch breaks or small breaks throughout the day.  At first this seems like a great idea because you can get more work done and possibly leave work a bit earlier than expected.  However, skipping lunch and working 8 hours straight can lead to fatigue and more mistakes.   Breaks exist because people need a few minutes every now and then to clear their mind and having to care for an animal requires you to take that time.  Taking a dog on a short walk, spending a few minutes petting and playing with a cat, or even putting food in a fish tank forces you to take a mental break.  This break in hard work helps refocus and calm your mind and allows you to come back with a fresh perspective and leads to long term productivity.
Improving the Office Setting
Hospitals and medical buildings often have dogs greeting guests and patients as they enter the facility.  This is done because dogs help people feel safe and help provide a positive atmosphere.  The same effect can take place in any commercial office setting.  Having a bring your pet to work day, or a day every week where pets are welcome helps improve morale.  If you or a coworker are having a bad day, being able to meet others pets or show off your pet improves your mood and the mood of almost everyone around you.    Animals are used by hospitals and medical facilities for that reason.  Most people who go to hospitals are either sick, injured, or visiting people who are.  A playful dog at the front door can usually create a necessary smile and this effect can also take place in your office.  Coming back from a rough meeting and being greeted by a friendly animal can help you move past the days struggles.
A Feeling of Home
Home is where your family lives. Everyone wants to feel comfortable and most people have the highest level of comfort when at home.   At the end of a long day almost every pet owner cannot wait to open the door at home and see their loyal companion there to greet them.   Having your pet with you all day helps spread that feeling of love throughout the day and allows you to always feel like you are at home.  Just knowing your best friend is lying down next to you while you work allows you to know they are safe and allow you to focus on work.\
Saving Money
Many people are at work longer then there pet can be without attention.  A solution for some is paying someone to come in and check on the pet or paying a dog walker.  In addition some people spend time and gas money traveling home to care for the pet themselves.  Having your pet at work allows for the needs of the animal to be met without extra costs incurred.
Having a companion at work is great and provides a sense of security as well as a mental escape that can be beneficial to not only you but your peers as well.  Creating a bring your pet to work day or program can help improve the efficiency of your office.  If you found these tips helpful please share on Facebook, Twitter, or Linkedin.