Summertime Activities!
Wednesday, June 13, 2018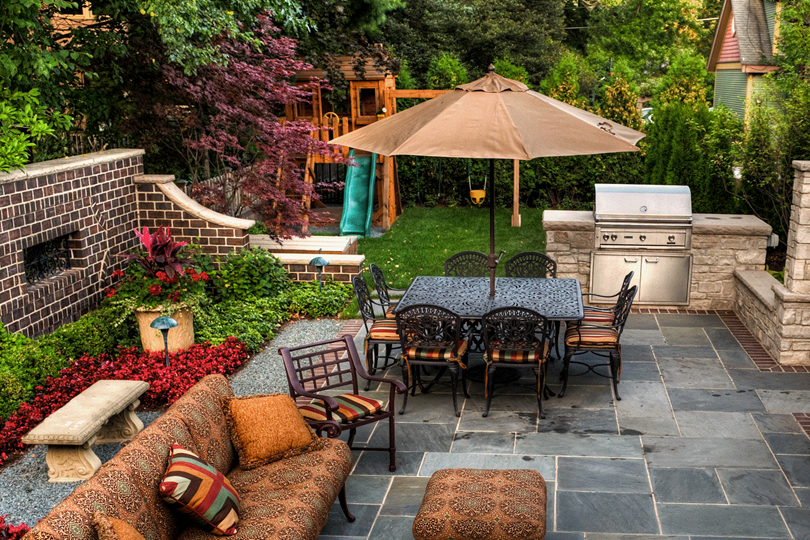 There are countless ways to enjoy the warm summertime weather; however, there is no correct way. The green season opens up a number of hobbies and activities to help us enjoy being outside.  Some of these activities take hours of preparation and some others only take minutes.  These activities can be done solo or as a group.  Just remember to make the most of every activity and make sure it is what you enjoy doing.
Landscaping
Everyone knows someone or has a neighbor with an incredible looking yard or extremely productive farm style home garden.   There is very little that stops you from having the yard that all the neighbors envy; just a little research, time, and effort is needed.  For landscaping your yard, you must first determine what look you are going for.  Are you looking for something colorful with numerous types of flowers or something more basic with just some simple green colored plants?  Finally are you looking for plants that come back every year or are you looking for some flowers that are seasonal.  Spend some time online looking at pictures of other yards and start to determine what style you want.  From there you can start laying things out in your mind or on paper.  You can take these plans to your local garden center, purchase what you need, and begin planting. 
Gardening
The other growing activity revolves around a garden.  There are plenty of vegetables that are relatively easy to grow in your yard with a little work.   To get started you need to research what you are trying to grow and find the ideal location for your garden.  This can be somewhere in your yard or even above ground planting containers.  You can also start this garden with seeds or with small baby plants sold at a number of stores.  Vegetable gardens do take daily attention during the summer to ensure you get the best yield.  You must ensure these plants are watered regularly and have the proper sunlight, soil, and bug or animal protection, so they can grow to their potential.  Just remember to share your yield with your friends and family.  You can even brag a bit if they turn out well.
Patio Design
Most people have seen at least one episode of a design television show, there are plenty of them that air every day.  This time of year you will start seeing more of these shows tackle patio design projects.  It might be time to check one out and get inspired.  Many people under utilize their outdoor space for a number of different reasons.  If you have a patio or deck that you are not using the question becomes why?  What is this area missing that makes you not use it?  Once you answer that question you can begin the process of finding a way to improve your outdoor area.  This could be as simple as adding some seating or as complicated as installing an outdoor kitchen.  Most garden centers will have a number of displays to give you ideas on what your space could be.  So spend a weekend traveling around and researching possible design themes and come up with one you would like.  Patios can be sitting areas, kitchens, or even gardens.  Decide what you want and start the project sooner than later to ensure you can enjoy your patio all summer long.
Biking
Warmer weather opens up the opportunity to travel by bike.  With no snow on the ground and rain being less frequent, you no longer need to drive everywhere.  Many cities and suburbs have specific bike lanes on the road and more and more offices now how bike racks to store your bicycle while you work.  The obvious benefit to biking more often is you become stronger and get a great workout while saving money on gas.  In addition, biking is a great way to meet new people who can help share the cycling passion.   Whether you are riding on a park path or to the office you are bound to come across other bikers.  Take a second to say hello and talk, who knows you might even start an office bike club together.  What is important is you do not miss the opportunity to bike while the weather lasts.  Unless you live in the south, cold climate will return before we want it too.
Swimming
Almost everyone has some childhood memory of being at a pool with friends and family.  This could be a community pool, a recreational center pool, a private club pool, or a home pool.  Warm weather makes spending time in or around a pool calming and relaxing.   The variety of different activities a pool offers is limitless.   You can just relax on a simple pool raft or start a volleyball or basketball game.   You can have swimming competitions or a barbeque.  It doesn't matter what the activity is, warm weather and comfortable temperature pool water is a great combination.  So, get your friends and family together and take a relaxing swim, great memories are bound to happen.
Barbeque
Summer is the season for grilling, smoking, and barbequing our favorite foods.  There are tons of different ways to cook outside from a traditional grill to a fire pit.  There are also a number of different food options and combinations that you can cook outside as well.  Who does not like having a weekend cook off or even a cooking competition with their loved ones?  Sharing food and celebrating just about anything is always a fun activity.  One of the latest trends to emerge this year is smoking meats instead of traditional grilling.  These smokers usually use flavored pellets to slow cook foods in warm smoke to seal in the flavor.  If you have not tried this method spend a few minutes looking into it, it could change the way you cook all summer long.  Finally if you are a big griller, smoker, or barbeque master look into competitions.  Almost every major city has at least one, usually more, events and competitions.  So perfect your outdoor cooking craft and enter a contest, you have nothing to lose and will likely have some fun in the process.
Hiking
When was the last time you explored your city, county, or states national parks.  Many people live near some sort of nature preserve and rarely, if ever, visit them.  Summer is a great time to change this.  Most parks offer running or hiking paths where you can travel through nature, get in exercise, and see some of the wonders of the environment we live in.   If you want to make a full day activity of hiking, try taking a backpack with food and water and find somewhere to picnic.  Some parks will even have grill stations available for public use.  You can go alone, in a small group, or even with a large group.  Look at maps and determine the best hiking route available.  Who knows once you try it you might fall in love with this type of adventure and make it a regular part of your week.  However, don't wait too long to take your first hiking adventure, summer does eventually end and it is a lot harder to get hooked when it is colder outside.
It does not matter how you spend your summer but don't waste it.  The time of warm weather and outdoor living is finite so don't waste it sitting indoors.  Remember to spend time outside and find what outdoor activity you have a passion for.
If you found this article of interest, please share on Facebook, Twitter, or LinkedIn.