How to Organize Your Business or Home File Cabinets
Sunday, August 14, 2016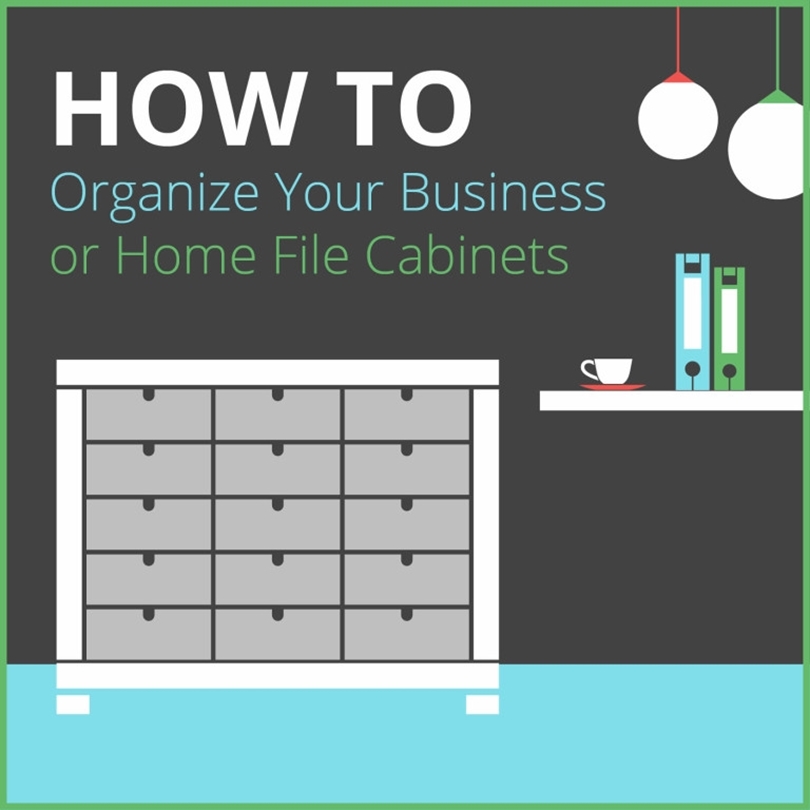 Is your desk inbox overflowing? Do you have paperwork everywhere in your home or office, but there is not enough time in your day to file it?  If you answered yes to these two questions, then it is time to do a file organization project. Organized files are important for both your home financial paperwork as well as your files in your office or cubicle. While organizing paperwork can be a tedious task, it is very important to be able to find the paperwork, client notes, or business documents that you are looking for.
10 File Cabinet Organization Ideas
Even though there are different paperwork that will need to be filed at home versus at a business, the steps for organizing a file cabinet are the same. You will need to have the right storage systems, files and time to go through the files. Below are ten steps to get started on your file organization project:
To start, create a file organization plan. Decide what paperwork you will need to keep versus what needs to be thrown away, shredded or recycled.
Set up a file organization system that you will be most comfortable with and will allow you to easily find the documents you will need in the future. Files can be set up alphabetically by client, name, project or due date. To keep everything organized, do not set up a miscellaneous file. This file could end up becoming overly cluttered with paperwork making it hard to find items.
Create a master list of your filing system to use as a reference for looking for particular documents.
Choose the correct filing cabinets for your storage needs as well as how much storage space is available in your office or cubicle. Furniture Wholesalers offers a variety of metal file storage options from pedestal 2 drawer file cabinets and 4 drawer vertical files cabinets to lateral files to storage cabinets.
For home file systems, choose a cabinet that is the most fire resistant. Some will be labeled with the Underwriters Laboratory seal. These cabinets can resist fires up to 1700 degrees Fahrenheit in order to protect your important documents.
Gather file supplies such as manila folders and hanging files. Label the files according to your designated filing system. Put the paperwork in their correct files.
Start out with a clean slate. If you already have a file cabinet full of files with no organization, it is time to take them out, clean through the files and set up according to your new organization system.
Keep your desk organized by using an inbox or other desk accessories.
Start filing your paperwork at a designated time each day in order to keep your inbox clean. This will prevent paperwork from piling up in your inbox.
Set up a recycling bin or a shredder near your desk to dispose of old, outdated and un-needed paper.
Storing Paperwork at Home
Have you found a time when you are looking for the instructions manual to an appliance, but have no idea where you stored it? Keeping these manuals together in one file in your home will help you find what you are looking for much quicker. There are certain documents that you should file in a home filing system:
Personal papers such as birth certificates and social security cards
Tax forms. Personal tax records should be kept for at least seven years per federal regulations
Deeds and titles for the home and any vehicles
Insurance Policies
Instruction manuals and warranties for appliances, electronic equipment and furniture
Employment benefits information including medical and life insurance
Financial statements from bank and credit card companies
Retirement documentation such as IRA or 401K information
A will, power of attorney and other legal documents
Storing Business Paperwork
Storing and organizing business paperwork will vary slightly based on the type of work done at a business. Office productivity will increase when desks and work areas are organized with the proper desk accessories and filing systems. Account executives will use their office file cabinets differently than an executive or the company owner. However, every level within a business can follow the ten file organization ideas detailed above.
Federal and state laws require the retention of specific business documents including accounting records and personnel records either on-site or in an off-site storage facility. Businesses will use a variety of storage types to store their documents. Any corporate asset records, accounting records such as financial statements, check registers or income tax returns need to be permanently stored whereas account payable and receivables, bank statements and expense reports can be disposed after seven years. Here is a list of documents that businesses need to keep:
Business account records including financial statements, income tax returns, payroll tax returns, account payable and receivable records, expense reports, bank deposits and income tax withholdings
Corporate accounts such as fixed asset reports, plans and blueprints, property appraisals and internal audit records need to be kept
Human resources and payroll forms including W-2s, compensation benefits, payroll records, attendance records, medical benefits, payroll checks and personnel records
File Cabinet Organization
Paperwork will always be a part of our lives, no matter how digitally connected we are in today's world. Properly setting up a file organization system will help increase productivity at a business. Having an organized home file system will allow people to easily find their important documents when they need them. Correct file organization systems including vertical and lateral metal filing cabinets are perfect file storage options help protect business and home documents and keep the information close at hand.
Looking to be more organized? Get the filing and storage cabinets you need today!