5 Office Furniture Tips for Disabled People
Saturday, October 15, 2016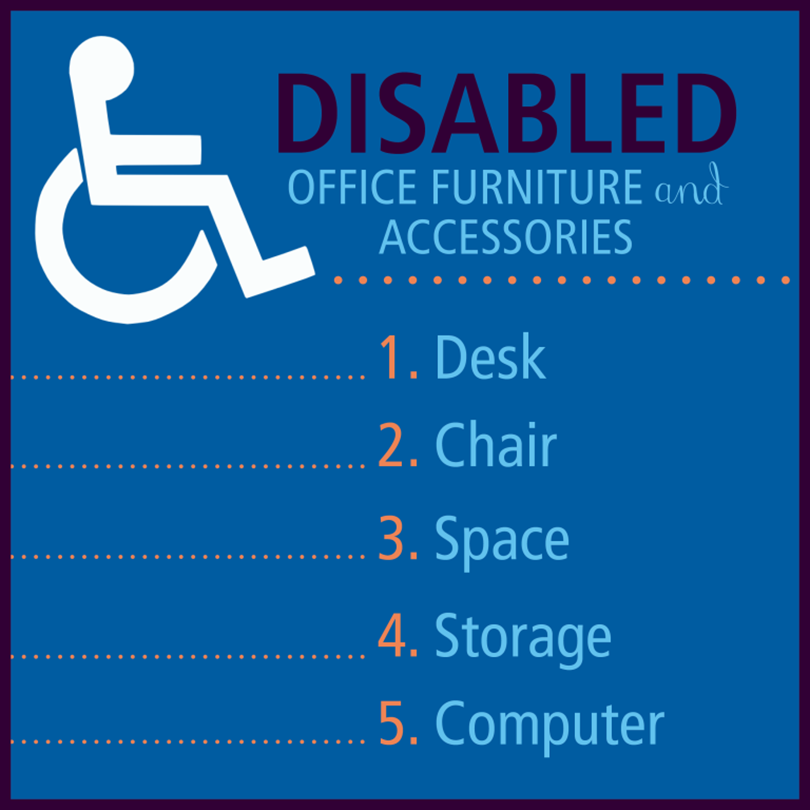 Creating your own work space either in an office or at home is crucial to being successful at your job. Once you have made a cubicle or office your own, then you can organize it according to your needs by adding filing cabinets and desk accessories. This is great for able bodied workers, but what about those that have physical disabilities and limitations? It is very important that there are workspaces created for disabled workers in order for them to be comfortable, efficient and productive.
Workplace Challenges for Disabled Workers
The workplace brings many challenges to disabled workers for many reasons including:
Work spaces are designed by and for people without disabilities
Desks, chairs and computer workstations have been modeled to accommodate disability-free workers and can be unsuitable for disabled individuals
A person with a disability could have a difficult time adjusting their desk, chair or cabinet to a position that works the best for them
Reaching for and using a mouse or phone headset can be exhausting
A laptop screen might be too small and it might be difficult to type on a regular keyboard
Businesses who are involved in their employees' health and well-being regardless of their ability will have a more productive workforce. Having an employer who designs workstations to suit their entire staff will show a disabled person that they an important member of the staff.
Creating Accessible Office Spaces for the Disabled
The Americans with Disability Act (ADA)  was written into law in 1990. The law "prohibits discrimination against people with disabilities in employment, transportation, public accommodation, communications, and governmental activities."  Businesses must be compliant with "paths of travel" including streets, parking lots, sidewalks and facility entrances. ADA defines employee work areas as "all or any portion of a space used only by employees and used only for work."  Certain specifications must be made in buildings, offices, restaurants and retail shops to allow access for individuals with disabilities.
Office Furniture and Accessories for the Disabled
Since we spend 8 hours a day 5 days a week at work, it is highly important to make your work space and desk as comfortable as possible. Workstations should be placed in a position that has adequate lighting and is close to an exit for easier access to the restrooms. Below are just a few tips for adjusting office furniture and accessories to make them fit a disabled person's needs:
Desk: There are a variety of styles for workstations for the disabled. Finding the one to suite your needs is most important. Under the ADA, a disabled person has the right to have their desk adjusted to fit your needs. If you are in a wheelchair, a desk can be adjusted higher or if the desk is too high, you can ask for it to be moved lower.
Chair: Make sure that the chair that you choose works with your desk and is comfortable. There are many disability friendly ergonomic chairs available including lumbar support chairs for those with back issues, adjustable arms that can go up or down depending on your height, tilted seats and easy roll or no roll for transferring in and out of a wheelchair.
Space: Leave plenty of space between workstations or in cubicles for wheelchairs or mobility equipment to get in from all angles. Make sure there is enough room for turning a wheelchair in cubicles, in aisle ways, breakrooms and in hallways.
Storage: Storage areas should be accessible for any user. You can organize your desk top with desk accessories that can be easily within reach. Cubicles could have built-in shelves that could be too high (or too low) for a disabled person. Ask to have the shelves adjusted to the level that fits your best. Have filing cabinets with soft close drawers to avoid catching fingers and add shelf extenders so items can be accessed easier in the drawers.
Computer: There are many ergonomic computer and accessory options to choose from to make working easier for a disabled person. A lightweight laptop is easier to move around. Desktop monitors come in a variety of styles and can be adjusted accordingly. Even having a dual monitor set-up can help to eliminate craning your neck. Computer accessories such as keyboards and mice are also being make in any shape and style to accommodate user's needs. There are optical trackball mice, joystick mice, vertical mice, large print keyboards, touchpads and even braille keyboards. There are also speech recognition programs, such as Dragon which allows people to control their computers with their voices and eliminates the need of a keyboard or mouse.
When purchasing furniture for a home or office of a person with a disability, it is critical to purchase the right furniture for the person's needs. Ask a representative at Furniture Wholesalers about office chairs and handicapped office furniture options for the disabled.