Waiting Efficiently and Comfortably
Wednesday, April 25, 2018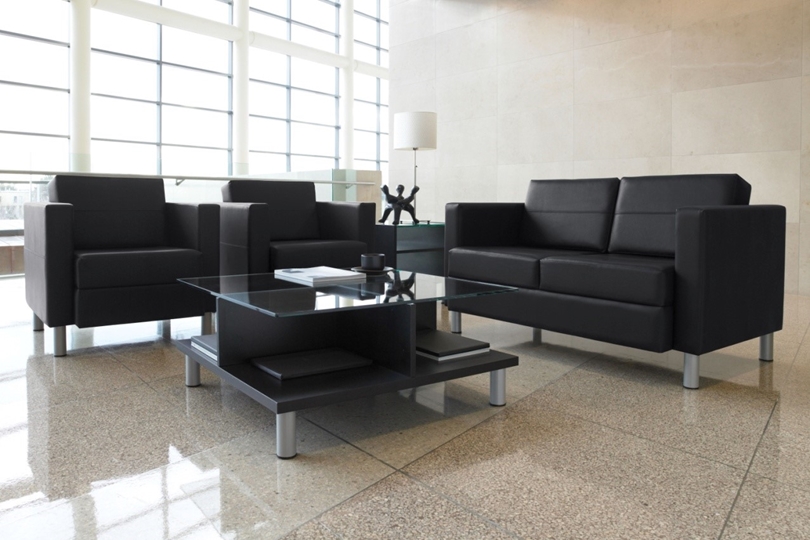 No one enjoys waiting for a meeting or at the Doctor's office, but it is a necessity.  People show up early or a meeting could last longer than expected.  We try to schedule our days to maximize our time and prevent wasting valuable minutes in a reception area.  However, things do not always go according to plan.  A client or patient might arrive early and we must all sometimes ask someone to wait a few minutes.  For that reason, having an efficiently designed and comfortable waiting area is necessary.  These reception rooms do not have to be very big, but they must be comfortable and presentable to ensure a positive environment for those who must wait.
A Dedicated Space
Some offices have large spaces designated for waiting and others might have just a small corner of a room.  These spaces might only be for people waiting and some will have areas for receptionist desks where receptionists, administrative assistance, and scheduling experts work on a day to day basis.  Either way, when setting up an office you must decide how much space you want for waiting customers and clients. This allows you to have a centralized area that can be furnished as needed.   The type of desks, chairs, and couches will be determined by the space available. In addition, knowing where people are waiting lets you keep confidential information and meetings out of sight and out of hearing range.  Putting a Doctor's private office next to a waiting area is not a wise idea, personal conversations might get overheard.  Having a clear defined space for waiting allows you to have simple entertainment to help occupy the time of people waiting.  Magazines, newspapers, and even a television in the area helps ensure everyone can be slightly more patient.
Design
A waiting room or reception area should be as visually appealing as it is functional.  A large number of customers and clients will, at some point, be in that space.  The way an area looks and feels is a reflection on your company or practice.  If this area is dirty and not designed well, it will leave a negative impression.  So once you have an area planned out, start thinking about décor.  What color scheme do you want and what type of furniture you will need?  Do you have a small office that only needs a couple of seats or are you a large medical firm that needs a bigger space with couches, tables, and even coat racks?  Furthermore, you need to ensure there are plenty of things to look at and plenty to do.  Consider adding some nice framed photos, a television, a magazine rack, or even a fish tank. Finally the reception area is an introduction to your office.  Make sure it matches the rest of your area.  You do not want the color of your chairs or couches to not coordinate with everything else in the office.  If you are unsure if something will look right, you can hire a designer or get fabric and finish samples to compare with your current office design.
Reception Desk
Large offices with larger staffs typically have larger reception areas.  These areas are usually busier than smaller reception areas and with so many people coming and going a receptionist might be needed.  A receptionist should be approachable and be able to have a counter for clients to write on and should also have some private desk space that not everyone can see.  This is why a reception desk or reception counter is needed.  A typical reception desk is similar to normal commercial grade desks but have a higher front for privacy with a counter on top for filling out forms.  Most office furniture series offer matching desks with these features for this purpose.  In addition, larger reception areas might even have room for extra storage with lateral files, bookcases, and in some cases, wall credenzas.  These extra pieces not only provide storage but counter space.  This space can be used to store media, photos, or even snacks for people who are waiting.  Finally having a reception desk might free up some valuable space elsewhere in the office while providing a friendly face for clients to interact with while they are waiting.
Seating
The most important part of a waiting room or reception room is seating.   Manufacturers many chairs, love seats, couches, and benches for these areas.  How do you know what is best for you?  Obviously, space availability is a huge factor; you cannot fit a couch in a space that is too small.  You must also consider if this room will change often due to changes in business needs.  Many companies offer stacking chairs that can be used in reception areas and store quickly and efficiently when not as much seating is needed.  In addition, is there a type of upholstery that is needed?  Medical offices most commonly will use vinyl upholstery that is easy to disinfect and clean while a business might use high quality fabric upholstery for design purposes.  Also, will lots of paperwork be filled out?  If forms need to be filled out, often a chair with a writing tablet on its side might be the most efficient.  There are several different things that go on in a waiting room or reception area, make sure the furniture adapts to those needs and does so with a sense of style.
Waiting rooms and reception areas are a crucial part of any office.  Ensuring they are comfortable and stylish will only help improve your company's image and ensure clients can wait for their next meeting comfortably.  Is your waiting area up to the challenge of representing your business, if not, an upgrade might be needed.  
If you found these tips helpful please share on Facebook, Twitter, or LinkedIn.