Working from Home: Pros and Cons
Thursday, December 08, 2016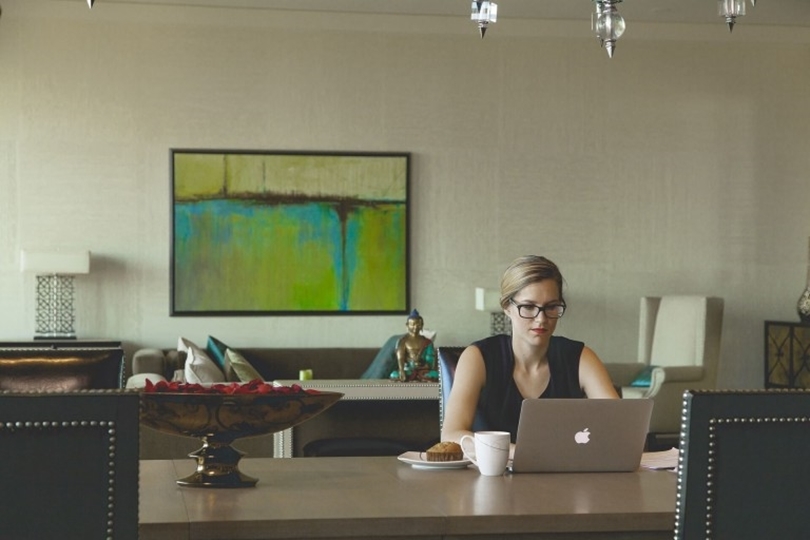 Working from home is a unique and appealing opportunity, but is it all it's cracked up to be? We'll dive into the myths, truths, pros, and cons of work from home jobs to answer all of your questions. Whether you're an employer considering a work from home benefit for your team members or you're an employee hoping to take advantage of a new opportunity, this post will help you figure out if working from home is right for you.
Benefits of Working From Home
Working from home has obvious (and not-so-obvious) benefits in the "pro" column. For example, a work from home policy can actually tie into a company's environmentally friendly or "green" policy due to the reduced emissions from commuting. If workers aren't driving (and getting stuck in traffic) and can instead do their work from home, there's a tangible benefit to the environment. Reduced traffic and commute time also plays into a better work-life balance for workers since they don't have to leave home as early in the morning or get home late after rush hour.
Top 10 Reasons to Work From Home
A survey by Forbes highlighted the top ten reasons workers like to take advantage of a work from home policy, including:
It's environmentally friendly (23% of respondents)
Offers them more time with family (29% of respondents)
Eliminates a long commute (44% of respondents)
Lets them avoid traffic (47% of respondents)
Saves gas (55% of respondents)
Contributes to better work/life balance (60%)
Six of the top ten reasons discovered in the Forbes survey relate to less commuting and more time at home. The other four reasons relate to employee productivity and motivation.
It's a less stressful work environment (38% of respondents)
It's a quieter atmosphere (43% of respondents)
There are fewer distractions (44% of respondents)
Employees are more productive at home (45% of respondents)
Such results are backed up by other surveys and research. In a survey of 1,500 job seekers, FlexJobs explored the reasons why job seekers are looking for flexible work-from-home options. The results found that 74% of respondents have done a telecommuting or work from home job before (either full or part time), that 79% have a college degree, and that 81% are mid- or manager-level positions. Working from home is a growing trend in the modern business world and employers need to prepare for an evolution of norms when it comes to employee schedules.
Results from the FlexJobs survey echo those seen from Forbes and also add new aspects to the list:
Work-life balance (74%)
Family reasons (52%)
Health and exercise (52%)
Time savings and reduced commute stress (47%)
Cost savings (43%)
Gas prices (36%)
Travel (26%)
Local job market (22%)
Care-taking for a family member (21%)
Time With Family
Full- or part-time work-at-home opportunities can allow families to have at least one parent at home with young children, or might allow an employee to care for a sick or elderly family member. Not having a commute means that workers have an easier time fitting exercise and homemade meals into their schedule, which improves employee health and wellness (and healthier employees correlates to better insurance rates).
Monetary Savings
Additionally, not having to commute saves the employee gas money, vehicle wear-and-tear costs, and other cost savings. A work-from-home policy might be an excellent bargaining chip in lieu of monetary raises, if the company's budget is tight and you want to reward your employees in other ways. FlexJobs found that 20% of respondents would take a 10% decrease in pay in exchange for flexible schedule options.
Working from home boosts employee productivity
Many employers worry that productivity will decrease when team members work from home, because they cannot physically oversee and supervise work being done. However, the survey results indicate that workers are likely to put in additional hours and perform even better when able to work from home. Whether this is a product of gratitude for the flexible options, lack of stress, or a few more minutes of shut-eye on mornings without a commute, it's a clear benefit to employers and employees. An overwhelming majority (82%) of respondents to the FlexJobs survey also said they'd show more loyalty to employers that offer a flexible schedule or work from home benefit, reducing employee turnover.
Drawbacks of Working From Home
There's always a balance between positives and negatives when exploring options like working from home. While research indicates a strong position in favor of working from home, there are also pitfalls to consider. For each negative possibility, we've included some working from home tips to mitigate the potential problem.
Communication
Communication breakdowns and degradation of culture and camaraderie are two main setbacks when it comes to working from home. If team members only communicate remotely, via email or group chats, a lot can get lost in translation and collaborative work can suffer. To negate this possibility, departments with telecommuting members should aim to get together in person at regular intervals to maintain face-to-face contact and maintain their feeling of being a team. Of course, if your employees work from home only occasionally and not on a full-time basis, this issue solves itself since they'll be back in the office soon!
Distractions at Home
There can also be distractions when working from home. While remote employees do report higher levels of productivity, it's important that employees minimize distractions at home by working in a specific home office or other work area. Pets, children, and household chores can all distract from work projects. However, employees also report being willing to work longer hours from home, which helps reduce the impact of these potential distractions. If a work-at-home-mom loses a couple hours of "nine to five" work time due to caring for a child, she's willing to make them up during naps or bedtime later. As long as projects are finished on schedule, a flexible work-from-home arrangement won't be a big productivity drain.
Cyber Security
Cyber security is something to keep in mind when working with remote employees. If they are working on sensitive information online, you'll need to watch out for data theft and security breaches. To reduce this risk, use a VPN to keep your data and information secure when accessed remotely. You can also use a password manager tool that allows employees to access all necessary apps and accounts online with only one password, so they don't have a notepad or document full of codes that can be lost or stolen.
Productivity and Discipline
One huge drawback of working from home, especially full-time, is that other people don't tend to take it seriously. Friends might call workers during the day because they're at home, completely ignoring the fact that they're working. Similarly, other departments at work may have a negative opinion of team members who are able to work from home. Work-at-home employees should set careful boundaries with friends and family members. It's important to reduce outward distractions by setting limits around social communication and interaction. Part-time telecommuters should consistently perform their duties to show others in the workplace that they're working just as hard as those in the office full-time.
Isolation Working From Home
Another consideration for the full-time employee working from home is a lack of social interaction. If you work full-time away from other people, it can get lonely, and that's a legitimate drawback! To reduce feeling isolated, pack up and work from a local coffee shop or restaurant to get the social interaction you need.
Companies That Let You Work From Home
You can always start by asking your current employer about creating a work from home policy, whether it's a consistent one or two days per week or a flex time arrangement that allows you to work from home on days when you have a doctor's appointment or need to take care of a child with the sniffles. If you are seeking out a new opportunity and want to make sure you have the ability to work remotely, consider these job seeking tips for work at home jobs.
On job search websites like Indeed.com, Monster.com, etc., you can usually search for keyword "Work at home" along with your city or zipcode to search for local telecommuting jobs. FlexJobs also compiles an annual list of companies with remote opportunities for you to search. It includes banks, insurance companies, staffing agencies, software companies, and more. Work from home jobs are available in most industries, so keep looking!
Finally, if you can't find a company that gives you what you need, consider the entrepreneurial route and go into business for yourself. What skills and talents do you have to offer? Start small, such as freelance marketing or copywriting if you have a communications background. If you're creative, you can make and sell clothing or accessories on a platform like Etsy. There are endless opportunities to build up your income working from home, with little to no startup costs. If you have a tight budget, avoid high-investment opportunities or multilevel marketing companies. They can bring in extra income but it takes a while to build momentum and see the return on your investment.
What Is Your Experience Working From Home?
Have you worked from home? What are your personal pros and cons about telecommuting? Have any tips for employees or businesses? Tell us in the comments below or via Facebook!
Photo from Pixabay