The Importance of a Private Office
Wednesday, February 28, 2018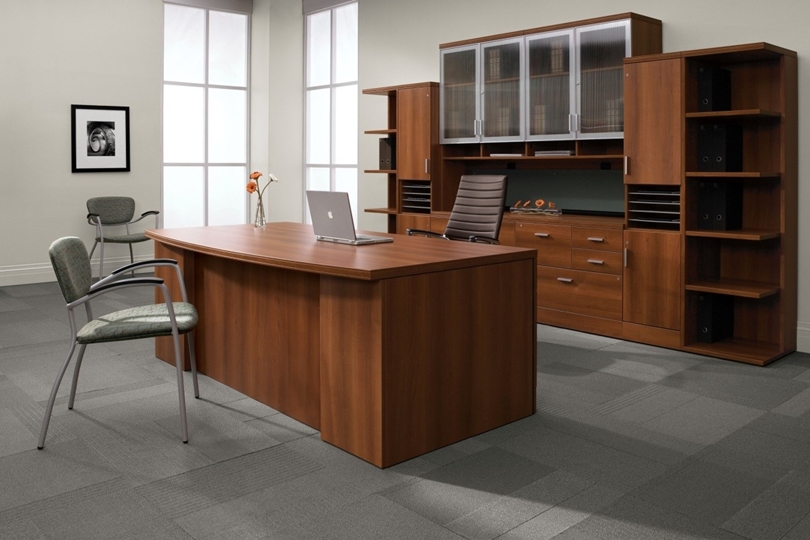 With the rise of online commerce over the last several years, people and companies have started to focus on their image and brand and a lot less about their setting.  The new way of business has a lot of executives more worried about online positioning and website quality than the state of their offices; however, it is still important to have an executive office.  Having an office gives you a suitable place to work and to hold small meetings or conferences.  In addition, having an impactful office shows you mean business when you have a client stop by.  Even though a lot of meetings are conducted through video conferencing or conference calls that can be taken anywhere, having a proper office ensures you have a place to focus solely on work.
A Place to Focus
There are a lot of distractions for everyone to face during the work day.  Social media and visual media can be found almost everywhere offering an easy distraction.  Having a private office is a way to remove yourself from the digital world and gives you a place to focus on the tasks at hand.  You can easily control what is in your office and this allows you to limit delay causing distractions.  Having an environment that is designed for work ensures you have all the tools necessary to complete your tasks and ensures you feel like you are at work even in a home office.  It has become very common these days for people to work at home.  This seems great at first but after a while it becomes hard to separate your work day from your personal time.   Having an office to go to provides a barrier between work and play that helps enhance the performance of both.
A Professional Feel
Who doesn't want to feel important?  Feeling necessary and important helps professionals to become better at what they do.  Having passion for your job enables you to do better work.  At some point in your life you have visited an office that was well designed.  Being in such a setting makes you respect whoever's office it was. Having a formal professional office allows clients to see how serious you are about your profession and allows you to feel like a top executive at a major company.  In addition, it makes you feel accomplished.  When designing your private office, you need to make sure it fits who you are and what you are all about.  There are contemporary offices, traditional offices, and some offices with unique character.  The design style is of little importance, but ensuring it is relevant to who you are and what you do matters.  An architect's office should be full of drafting equipment and a banker's office typically has a traditional feel.  There are no rules as to what style you should have, but It should be based on what you do.  Having the right feel for your office helps ensure you have the right frame of mind while working.
A Place for Clients to See
No matter how advanced technology gets, there becomes a point where face to face meetings are necessary.  Having a dedicated office provides you a proper place to have such social exchanges.   Having an executive desk with guest chairs provides you a more intimate professional setting than a large conference room and provides a more comfortable feel.   A lot can get done in small meetings especially when detractions are limited.  It is true that you can meet with clients at coffee houses and restaurants to conduct these meetings; however, these public areas can hinder productivity.  A private office, with a few guests seats, provides a place where all the tools to complete a job distraction free can be kept.  In addition, having a great office leaves an impression on those you work with.  A serious office shows contractors, partners, clients, or just about anyone else that you mean business.  It gives you a place to display professional accomplishments and serves as a status symbol.  Executive offices are earned through hard work and determination.  Having a professional contact meet with you in your own offices makes them feel comfortable and ensures them that you are serious about getting work done.
A Personal Touch
There are countless design styles out there.  Having your own office lets you express your style.  Designing a personal office should be work and should show everyone a little about you.  It is true you can hire a professional to do everything for you but where is the fun in that?  You have worked hard to earn your office and you should be heavily involved in its design. Look online at different desk designs and color patterns.  Find what you like and create a professional work space that is right for you.  Also, have fun with it.  There are people who will never get the opportunity to design their own place of work.  The design process will involve stress but if you are involved, you will have the feeling of pride and accomplishment when the office is complete.
There are countless ways to design and create your own private office. You can hire a design firm, you can go to a retail store, or you can shop online.  One thing remains constant; a private office can be a sanctuary.  It can be a place that reflects your style and work ethic and can be a place to be proud of.  It is easy to feel like a formal office is no longer necessary but in the modern world full of detractions a dedicated work space has never been so important.  So, when you are fiscally able, invest the time and effort into creating your private office.  It will be fun to do, allow you to have a dedicated work setting and provide a feeling of professional accomplishment.
If you found these tips helpful, please share on Facebook, Twitter, or LinkedIn.