Computer carts can be used for desktop computers or laptops to create a mobile work space in any environment. Mobile workstations are perfect for your home office, conference rooms, business office, medical offices and hospitals, training rooms and more. These space-saving, mobile desks offer great stability for monitors, towers, and accessories.
A great addition to any commercial work room, this IT station is provides plenty of storage, provides power outlets, and is resistant to electro-static discharge. This unit is height adjustable and will fit in to a small 48"W space.
A great addition to any IT, commercial, or industrial workspace. This Techworks station is height adjustable, provides plenty of storage, and is idea for working on electronics due to its ESD laminate work surface that is resistant to electo-static discharges.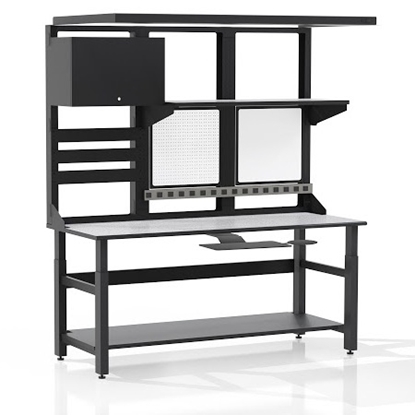 A commercial grade work area that is great for working with electronics. This unit features paint and laminate material designed to prevent electromagnetic discharge and the base table is height adjustable.